fotos viaje Australia
OPERA HOUSE O CASA DE LA OPERA ES EL EDIFICIO MAS IMPORTANTE DE LA CIUDAD DE SYDNEY
web page opera house The Sydney Opera House is the busiest performing arts centre in the world. Since its opening in 1973, it has brought countless hours of entertainment to millions of people and has continued to attract the best in world class talent year after year.
casa de la opera
ARBOL CARNIVORO
BARCO
FUENTE
LEN
LEN TANY
OPERA
OPERA1
OPERA2
OPERA6
KOALA
una de las bahias mas grandes y modernas vale la pena conocer
un paseo en uno de estos ferrys es emocionante KOALA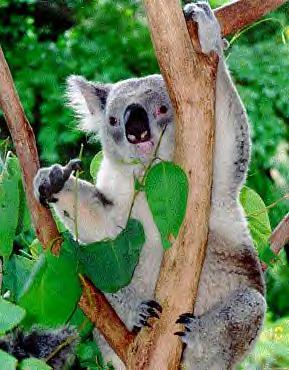 What is a koala? The koala is a small bear-like, tree-dwelling, herbivorous marsupial which averages about 9kg (20lb) in weight. It's fur is thick and usually ash grey with a tinge of brown in places. The koala gets it's name from an ancient Aboriginal word meaning "no drink" because it receives over 90% of it's hydration from the Eucalyptus leaves (also known as gum leaves) it eats, and only drinks when ill or times when there is not enough moisture in the leaves. ie during droughts etc. The koala is the only mammal, other than the Greater Glider and Ringtail Possum, which can survive on a diet of eucalytus leaves.
1
2
3
4
5
6
7
mis links
---